Huge mountains and green valleys. The Imperius climate is perfect for growing fruit.
-Tribe description
The Imperius tribe is the second of the 12 regular tribes in Polytopia and one of the four free tribes, the others being Xin-xi, Bardur, and Oumaji. Imperius starts with the Organization technology.
Imperius is a relatively strong tribe, as it can upgrade its capital on turn 0. However, it is not as strong as Bardur or Kickoo since its resources are more diverse and require more technologies to fully exploit.
Resources
Imperius has default spawn rates for all resources. Therefore, those spawn rates may also be called "Imperius spawn rates."
Appearance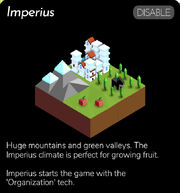 Lore
Tribe Celebrations
Webshop
Cities
Naming Syllables
ca, do, ica, ip, lo, lus, ma, mo, mus, nu, pi, re, res, ro, sum, te
City Buildings
Trivia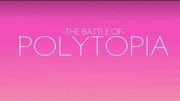 References
Tribes
Regular tribes: Xin-xi, Imperius, Bardur, Oumaji, Kickoo, Hoodrick, Luxidoor, Vengir, Zebasi, Ai-Mo, Quetzali, Yădakk
Community content is available under
CC-BY-SA
unless otherwise noted.