White sandy beaches with coconut palms. Abundance of fruit and fish. Welcome to the home of the Kickoo.

-Tribe description
Kickoo is the fifth tribe in Polytopia. Kickoo starts with the Fishing technology.
Kickoo is one of the strongest tribes. It can upgrade its capital on turn 0. Also, Fishing is a powerful starting technology because it allows Kickoo to quickly research Sailing and build Ports for naval control while leveling up cities. Moreover, Kickoo's use of Ports allows it to build strong Customs Houses and easily form city connections over water.
Resources
[
]
Kickoo has 0.5x mountain, 1.5x fish, and 2x water.
Lore
[
]
An adventurous bunch, the Kickoo love the water and everything there is to know about boats and overseas trade. Riding speedy Leeons and harvesting delicious banoos, the Kickoo are a force to be reckoned with.
Tribe Celebrations
[
]
Webshop
[
]
Inspiration
[
]
The Kickoo tribe is inspired by Polynesian cultures[4], the terrain seems to be archipelagic and has white shores, that resembles Austronesian and Caribbean terrain, houses on poles, fish as the main resource and banoo as a fruit are references to the culture of these regions. Kickoo's fruit are Banoos (bananas), despite that Kickoo's trees are palm trees.
Kickoo's mountains are the only ones to extend into the soil.
Design
[
]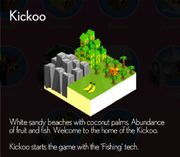 City Naming Syllables
[
]
[space], an, ko, li, lo, lu, ma, no, nu, oki, si, va
City Buildings
[
]
Monuments
[
]
Music
[
]
Trivia
[
]
References
[
]