"The seemingly endless, sun-blessed desert is the home of the Oumaji tribe."

-Tribe description
The Oumaji tribe is the fourth of the 12 regular tribes in Polytopia and one of the four free tribes, the others being Xin-xi, Imperius, and Bardur. Oumaji starts with the Riding technology and and a Rider unit.
Oumaji is typically considered to be a lower-mid-tier tribe comparable to Ai-Mo and Quetzali due to its relatively weak economy. Its starting technology, Riding, is not an economy technology, nor does it lead to one. While starting with Riders allows it to quickly explore and capture many villages, Oumaji often cannot easily upgrade its newly-captured cities. This is exacerbated by the fact that utilizing crops, which constitute a large portion of Oumaji's resources, requires the tier two technology Farming, which may take some time to research. Low-level cities raise technology costs while not providing much income. Therefore, Oumaji is outclassed by tribes that start with an economy technology, such as Bardur, as those tribes can more quickly upgrade cities and have a greater income in the early-game. They can also quickly research Riding if the player chooses to.
Resources
Oumaji has --forest. In the game's source code, Oumaji also has a --water modifier, but that is not actually translated into the world generation.
Appearance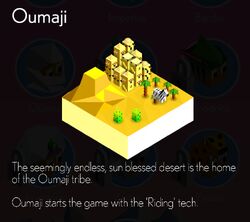 Fruit: Sajaa (cacti)
Land: Desert sand
Forests: Palm oasis
Animals: Shebron/Shebra (plural: Shebrons)
Mountains: Sandy mountains with flat tops
Cities: Clay adobe structures with small wooden embellishments
Helmet: Headscarf
Color: Yellow
Lore
Strategy
| | |
| --- | --- |
| | This article or section is currently under construction and may not be ready for use yet. This could be because not all information has been compiled yet or because the feature has not been released yet. You are welcome to assist in the article or section's construction by editing it as well. |
The Oumaji desert often has a good amount of fruit and farmland, making Organization a good technology to buy early. However, contrary to most other tribes, Oumaji should not buy Forestry due to the lack of trees.
City Buildings
Trivia
Oumaji is influenced by North African peoples, as Zoythrus, the official community manager, confirmed.
In the ambience playing throughout Oumaji lands, the noise of sand moving in the wind and a rattlesnake shaking its tail are heard.
Oumaji is the only free tribe not to start with a Warrior.
Zebasi "inherited" their trees from Oumaji: before the release of Zebasi, Oumaji had the acacia trees that Zebasi now has.
Tribes
Regular tribes: Xin-xi, Imperius, Bardur, Oumaji, Kickoo, Hoodrick, Luxidoor, Vengir, Zebasi, Ai-Mo, Quetzali, Yădakk
Community content is available under
CC-BY-SA
unless otherwise noted.