Jurassic World: Dominion Dominates Fandom Wikis - The Loop
Play Sound
The Quetzali tribe worship the Bird Gods of the red soil and live in harmony with the natural symmetry of their cubistic jungles. They are commonly seen riding giant flightless birds.

-Tribe description
Quetzali is the 11th regular tribe and the 12th tribe overall in Polytopia. Quetzali starts with the Strategy technology and a Defender unit.
Quetzali is typically considered to be a lower-mid-tier tribe. Defenders are not particularly useful early-game since they cannot effectively attack enemy units. Also, having a reduced crop spawn rate may hinder Quetzali's mid-to-late-game development. (Although Quetzali does have increased fruit spawn rates, fruit only provides one population each, while Farms provide two population each.)
Resources
[
]
Quetzali has 2x fruit and 0.1x crop.
Lore
[
]
The Quetzali are a pious people devoted to the will of the Bird Gods and the defense of their cubistic jungles. Even though they adopt an outward policy of security and diplomacy, they are more than willing to lift their shields and ride their Qui-Qui birds into battle at a moment's notice!
Tribe Celebrations
[
]
Webshop
[
]
Other
[
]
Design
[
]
The Quetzali resemble Mesoamerican civilizations, such as the Aztecs, Olmecs, Mayans, and Toltecs. The name "Quetzali" resembles that of the Aztec god Quetzalcoatl and that of the Quetzal bird and Their mountains resemble Mesoamerican stepped pyramids and red soil like theirs is predominantly found in rainforests like the Amazon. Corn is also from Mesoamerica. The update in which Quetzali was added was named "New World."
Appearance
[
]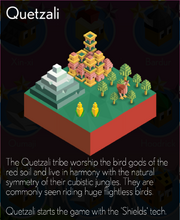 City Naming Syllables
[
]
[space], el, ca, cho, chu, ex, ill, ix, ja, qu, tal, tek, tz, was, wop, ya
City Buildings
[
]
Monuments
[
]
Music
[
]
Trivia
[
]
References
[
]