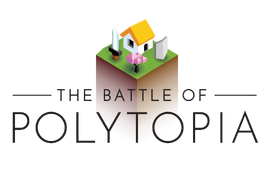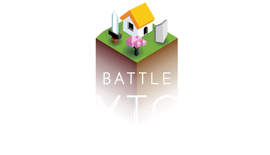 Welcome
Welcome to the official wiki of the strategy game The Battle of Polytopia. This is a collaborative encyclopedia that anyone can edit. It has 172 articles and a Discussions forum. Before particpating, please read the Wiki Rules.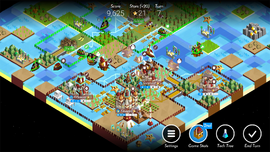 The Battle of Polytopia is an award-winning turn-based strategy game about building a civilization and going into battle. With millions of players, it is one of the most popular mobile strategy games. Players lead one of sixteen tribes, explore the square world, build cities, develop technology, and wage war against other players to take control of the mythical land of Polytopia. The game is available on the App Store, Google Play, Steam, and Tesla cars.
Popular Pages
News
Oumaji Tribe Moon
Other tribes may have been blessed with fertile land, abundant resources, or a warrior culture, but the Oumaji have something the others do not - speed. The legendary Shebron can quickly dash over dunes, hills, and plains, and are why the Oumaji excel at hit-and-run raids.
This month's Tribe Moon celebrates the Oumaji! Join in the celebration and participate in related contests at the official Discord server. All Oumaji merchandise is on sale at the webshop until August 31st!
Live Games, Replays, and Lobbies!
It's time to test a new beta! This one sees a return of Live Games and Replays, but also adds Lobbies!
Live Games: A tight, quick game format where the turn timer is always right on your tail!
Replays: Online multiplayer games will now be saved to the cloud, and able to be accessed from the new "Replays" tab in the multiplayer menu!
Lobbies: A new way of gathering you friends together for a match. Lobbies are not time restricted, but you pick the tribe when accepting the invite.
This beta has no restrictions, so feel free to join in and help us test it out!
To get in, you'll have to join a new set of betas as the current beta program won't work.
For IOS, use this link: [1] (there's only 500 slots, so be fast!)
For Steam, use the beta access code: dontgetskipped
For Android, we haven't been able to figure out a way to allow multiple beta branches, so Android cant join at this time.
Discord
Join The Battle of Polytopia's official Discord server for matchmaking, contests, game nights, and more!
If you see this, your JavaScript might be disabled or DiscordIntegrator plugin isn't working. If the latter, please contact a wiki administrator.
Connect with The Battle of Polytopia
Midjiwan AB
is not responsible for this wiki or its content.