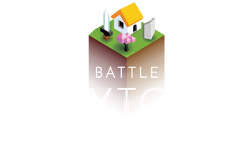 The Battle of Polytopia Wiki
Welcome to the official wiki of the strategy game The Battle of Polytopia. This is a collaborative encyclopedia that anyone can edit. It has 172 articles and a Discussions forum.
Want more information on the Diplomacy update? Check out the
Diplomacy FAQ
!
Popular Pages
Wiki Rules
Be bold! Anyone can edit a wiki. Start editing, commenting, and participating in Discussions!
Be respectful. Constructive criticism is encouraged, but hateful language and personal attacks are prohibited.
Don't be disruptive. This includes spam, vandalism, off-topic conversations, and excessive self-promotion.
Need help? Contact an administrator at Message Wall:Zebastian1.
More information can be found at Polytopia Wiki:Wiki Rules.
The Battle of Polytopia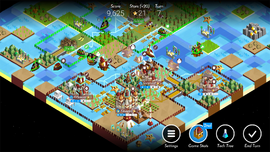 The Battle of Polytopia is an award-winning turn-based strategy game about building a civilization and going into battle. With millions of players, it is one of the most popular mobile strategy games. Players lead one of sixteen tribes, explore the square world, build cities, develop technology, and wage war against other players to take control of the mythical land of Polytopia. The game features single-player and multiplayer game modes.
News
Zebasi Tribe Moon
Farming in Zeboya is made much easier with the myriad of irrigation channels built by the Zebasi. Windmills use the power of the wind to power lifts that pull water from Lake Mozimwa into the irrigation network, keeping Waongii, Uzu, Z'nula, and other crops growing all year long!
This month's Tribe Moon celebrates the Zebasi! Join in the celebration and participate in related contests at the official Discord server. All Zebasi merchandise is on sale at the webshop until July 31st!
Trading Cards, Backgrounds, and More Goodies on Steam!
Hey, Steam fans! The wait is over! Now we're adding emoticons, badges, trading cards, backgrounds and other goodies to Steam, so you can show off your love for Polytopia with pride!
We've added the basics:
12 Trading Cards (1 for each of the Regular tribes)
6 Badges (5 normal, 1 Foil)
11 Emoticons (2 Rare, 4 Uncommon, 4 Common)
5 Static Profile Backgrounds
As well as Point Shop items:
3 Animated Profile Backgrounds
3 Animated Stickers
2 Mini-Profile Backgrounds
2 Animated Avatars
2 Animated Profile Frames
Don't like working with trading cards? All of these items can be purchased on the Point Shop as well!
Now, go get them!
Connect with The Battle of Polytopia
Midjiwan AB
is not responsible for this wiki or its content.