Tribe celebrations are special periods that commemorate a specific tribe in Polytopia. During a tribe celebration, a lore blurb and image is posted, the merchandise of the tribe receives discounts on the webshop, and (for regular tribes) the custom emoji for the Giant on the Polytopia Discord server is changed to the tribe's Giant. The length of a tribe celebration varies from a day (Tribe Days) or week (Tribe Weeks) to a month (Tribe Moons). All of these celebrations are functionally identical.
Schedule
Tribe Days (2019)
Tribe Days celebrated regular tribes in 2019. They occurred on the last day of the month.
Tribe Moons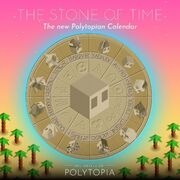 Tribe Moons are primarily celebrated on the first of each month, when the lore blurb and image are posted. All Tribe Moons celebrate regular tribes. The Stone of Time has dictated the schedule for Tribe Moons since it was established in January 2020.
Special Tribes
Aquarion and Polaris have had tribe celebrations since July 2020. Aquarion has a Tribe Day on July 20th, and Polaris has a Tribe Week in January. ∑∫ỹriȱŋ is traditionally involved in an Earth Day donation event.
Galleries
2019
2020
2021
References
Community content is available under
CC-BY-SA
unless otherwise noted.