Tribe celebrations are special periods that celebrate the tribes in Polytopia. Tribe celebrations include Tribe Moons, Tribe Weeks, and Tribe Days. During a tribe celebration, a lore blurb and image are posted and the merchandise of the tribe is discounted on the webshop.
Schedule
[
]
Tribe Days (2019)
[
]
In 2019, Tribe Days celebrating regular tribes were held on last day of each month.
Tribe Moons
[
]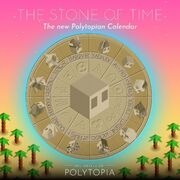 Tribe Moons are month-long celebrations of regular tribes. They are primarily celebrated on the first of each month, when the lore blurb and image are posted. Tribe Moons have been celebrated since January 2020. Their schedule is outlined in the Stone of Time.
Special Tribes
[
]
Galleries
[
]
2019
[
]
2020
[
]
2021
[
]