Frowned upon by the other tribes and pushed into the unpleasant wastelands. Will they tolerate this injustice or rise to fight back?

-Tribe description
The Vengir tribe is the eighth of the 12 regular tribes in Polytopia. Vengir starts with the Smithery technology and a Swordsman unit.
Vengir is often considered a weak tribe due to its slow economic development. Vengir has heavily reduced spawn rates for tier one resources (those that can be harvested once a tier one technology like Organization is researched) but increased spawn rates for the many tier two resources. Therefore, Vengir has virtually no usable resources until it researches Farming or Mining. This results in a weak economy for Vengir in the crucial early-game.
However, Vengir can quickly overwhelm other tribes with Swordsmen early-game. This makes Vengir very strong in crowded games.
Resources
Vengir has --fruit, ++crop, --game, ++metal, and --fish.
Appearance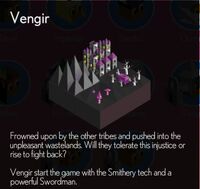 Fruit: Thxando-shrooms (purple mushrooms)
Animal: Rhino-pigs
Field: Black soil
Forest: Ashtrees (trees with white bark and purple leaves)
Mountain: Black, spiky mountains
City: Dark grey buildings with pointed purple roofs
Helmet: Silver helmets with spikes
Lore
Strategy

"Be not afraid of growing slowly, be afraid only of standing still."
This article or section is currently
under construction
and may not be ready for use yet. This could be because not all information has been compiled or because the feature has not been released. You are welcome to assist in the article or section's construction by editing it as well.
The Vengir start off with one Swordsman, and can create a second one on Turn 0. The Swordsman gives a huge advantage over other tribes during the early rounds if you spawn near tribes. In 1v1 domination games, the Vengir can win games without losing a single unit.
However, the Vengir can easily lose momentum as their native territory has very few resources apart from farms. This means you must quickly capture neutral and enemy villages to get more income. Be careful though, as more villages captured means higher tech prices, as well as more enemies that will find you.
Strategies Against Vengir
In the early rounds, a neighboring Vengir can pose a huge threat due to their superior troops. However, there are ways to survive an early Vengir attack:
City walls: By increasing your city defence with a wall, you may be able to buy yourself some time before Vengir is able to siege your city, or eventually stall them until you have better units to fight them with. Paired with Defenders, your city can become very difficult for even mid-game units to besiege. The Luxidoor start off with a city wall.
City Buildings
Trivia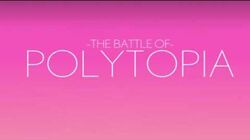 The Vengir were based off Mordor, a land in J. R. R. Tolkien's fictional world of Middle-earth.
The name "Vengir" may be a play on the words "revenge" or "vengeance," since the Vengir were pushed into the wastelands and may be fighting back.
In the ambience playing throughout Vengir lands, an eerie static sound which plays continuously and a creature roaring in the distance can be heard.
Vengir is the only tribe to start with a tier three technology.
A Halloween event called the Vengir Skull Party changed the Vengir head to a skull version once the Gate of Power was built. The event lasted from October 29 to November 30, 2020.[1]
The Vengir head underwent many iterations.
References
Tribes
Regular tribes: Xin-xi, Imperius, Bardur, Oumaji, Kickoo, Hoodrick, Luxidoor, Vengir, Zebasi, Ai-Mo, Quetzali, Yădakk
Community content is available under
CC-BY-SA
unless otherwise noted.