They start their journey in the dense mountains, surrounded by beautiful cherry blossom.

-Tribe description
The Xin-xi tribe is the first of the 12 regular tribes in Polytopia. It is one of the four free tribes, the others being Imperius, Bardur, and Oumaji. Xin-xi starts with the Climbing technology.
Xin-xi is a strong mid-tier tribe due to its abundance of metal.
Resources
Xin-xi has ++mountain and +metal.
Appearance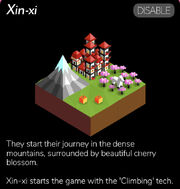 Lore
Tribe Celebrations
Webshop
Strategy
Main article: Xin-xi/Strategy
The Xin-xi are one of the few tribes for which it is viable to research Smithery and use Swordsmen. Starting with the Climbing technology allows Smithery to be researched more quickly, and more mountains lead to more metal resources that can be harvested through Mining. Swordsmen can be powerful troops, with high attack and defence, while being far less expensive as Knights (especially since the technology required to unlock Knights, Free Spirit and Chivalry, typically serve no other use).
Cities
Naming Syllables
[hyphen], bu, cha, gu, li, po, sha, szu, xi, yo
City Buildings
Trivia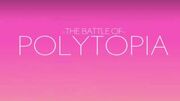 References
Tribes
Regular tribes: Xin-xi, Imperius, Bardur, Oumaji, Kickoo, Hoodrick, Luxidoor, Vengir, Zebasi, Ai-Mo, Quetzali, Yădakk
Community content is available under
CC-BY-SA
unless otherwise noted.