They start their journey in the dense mountains, surrounded by beautiful cherry blossom.

-Tribe description
Xin-xi is the first free regular tribe in Polytopia. The tribe starts with the Climbing technology.
Xin-xi is a mid-tier tribe.
Resources
[
]
Xin-xi has ++mountain and +metal.
Lore
[
]
Tribe Celebrations
[
]
Webshop
[
]
Strategy
[
]
Main article: Xin-xi/Strategy
Xin-xi do not start with a population tech so you cannot upgrade on T0, however because of climbing, they can scout out very early to find villages, ruins, water and enemies and if you find ruins, take if they are in a convenient location. If you have metal in your territory, go for mining and smithery, as this will help you build a decent economy going into the game. If you do not have metal in your territory, go for whatever is best e.g. fishing or hunting. Capturing a city is useful, but remember to get any techs you need beforehand. You will want to use scouting on mountains to your advantage as much as possible
The Xin-xi are one of the few tribes for which it is viable to research Smithery and use Swordsmen. Starting with the Climbing technology allows Smithery to be researched more quickly, and more mountains lead to more metal resources that can be harvested through Mining. Swordsmen can be powerful troops, with high attack and defence, while being far less expensive as Knights (especially since the technology required to unlock Knights, Free Spirit and Chivalry, typically serve no other use).
Design
[
]
The Xin-Xi tribe appears to be inspired by Japanese (cherry blossoms, mountains resembling Mount Fuji) and Chinese cultures. Their helmet design resembles Japanese Kabuto helmets used by samurai, but they could also be inspired by Chinese helmets.
Appearance
[
]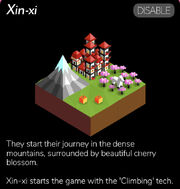 City Naming Syllables
[
]
[hyphen], bu, cha, gu, li, po, sha, szu, xi, yo
City Buildings
[
]
Mounuments
[
]
Trivia
[
]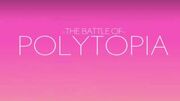 References
[
]