The Yădakk started out as a nomadic tribe in the beautiful harsh Khalee plains. Now they are the traders of the Square, connecting their empire with impressive trade routes.

-Tribe description
Yădakk the 12th and final regular tribe in Polytopia. It starts with the Roads technology.
Yădakk is an upper-mid-tier tribe with decent resources and a useful starting technology.
Resources
[
]
Yădakk has 1.5x fruit, 0.5x forest, and 0.5x mountain.
Lore
[
]
Molded by a harsh existence through a nomadic lifestyle on the Khalee Plains, the Yădakk became merchants famed for their elaborate trade network. These jovial merchants are always ready for a good deal, great stories, and a life full of adventure.
Tribe Celebrations
[
]
Webshop
[
]
The Khamelk is an extremely persistent animal. From just one single Khizuz fruit it gets enough nutrition to walk for weeks in the barren Yădakk lands.[1]
After a long day traveling the roads of their beloved lands, every Yădakk loves to enjoy a cup of hot Khăl-iz around the stove in their yurt. This potion slightly pitches their voice in a way that makes it possible to sing the traditional chants that have been sung by their ancestors since the beginning of turns.[2]
Inspiration
[
]
The design of the Yădakk is inspired by the cultures of peoples living along the Silk Road, including the Turkish and Mongolian cultures.[3] This theme was inspired by the Mongol-themed fan-made tribe Moriton.[4]
The Khamelk (Yădakk animal) was inspired by Kamälgen, a monument in Midjiwan's hometown that is a cross between the camel and the moose. The name of the Khamelk is a portmanteau of the words "camel" and "elk."
Design
[
]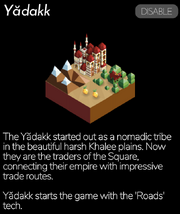 Fruit: Khizuz (lemon)
Animal: Khamelk (crimson deer with antlers and humps)
Field: Pale tan steppes with brown soil
Forest: Bushy trees with no visible trunks
Mountain: Tall, brown, pointed mountains with snow caps
City: White brick frames with red or gold domed roofs and tall, spindly towers
Helmet: Fez with tassel
City Naming Syllables
[
]
ar, ark, az, ber, ez, ge, gy, kh, ki, kol, kă, mer, ol, sam, sh, st, tja, tsa, ug, urk, ül, üm, ăn
City Buildings
[
]
Monuments
[
]
Music
[
]
Trivia
[
]
Yădakk's extended theme, Saladik Ătjum, is the only one to have a music video. The music video showcases Midjiwan and Midjitone (the developer and sound designer of Polytopia, respectively) acting as the "Yădakk Orkestar" and playing several different instruments.[5]
Notes
[
]
↑

"Tizjhan" is the name of the god of the Yădakk.
References
[
]