Zebasi thrive on the warm savannah, cultivating the rich soil to provide food for their mighty population.

-Tribe description
Zebasi is the ninth tribe in Polytopia. It is a regular tribe that starts with the Farming technology.
Zebasi is a strong tribe because it can upgrade its capital on turn 0. Zebasi can upgrade its city further than other tribes can with just its starting technology since Farms produce two population. However, Bardur has a stronger economic development in general because it can use Lumber Huts with powerful Sawmills, and Kickoo is stronger than Zebasi because Kickoo has early access to Sailing.
Resources
[
]
Zebasi has 0.5x forest, 0.5x mountain, and 0.5x fruit.
Strategy
[
]
Main article: Zebasi/Strategy
A lot can vary based on the number of farms/resources you have, and how your 2nd Turn looks. Having as much information as possible is crucial to deciding what to do. Move your first warrior before debating the merits of a 2nd warrior. With ruins, you can always get a 2nd warrior. If there is an unnatural abundance of forests, which happens from time to time, don't make a 2nd warrior and prepare to rush forestry/hunting. If you can afford all the tech/city upgrades you need in the upcoming turns, get a 2nd warrior.
Lore
[
]
Hailing from the land of Zeboya, the breadbasket of the Square, the Zebasi spend their days working their farms or leisurely watching the sun set on their serene savanna. A jovial and inquisitive folk, the Zebasi are always looking for new ways to understand the world around them.
Tribe Celebrations
[
]
Webshop
[
]
Inspiration
[
]
The Zebasi are influenced by all of sub-Saharan Africa.[4] They are primarily based on southern African culture, as evidenced by the clay cities, multicolored tribal pattern, giraffes, and savannah environment with acacia trees.
Design
[
]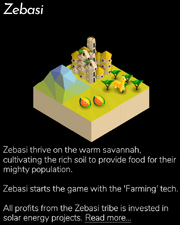 City Name Syllables
[
]
bo, co, la, mo, wa, ya, za, zan, zim, zu
City Buildings
[
]
Monuments
[
]
Music
[
]
Trivia
[
]
References
[
]